Bob Ring; Old Fort Lowell Neighborhood Association

This remnant of a major irrigation ditch crosses East Placita del Mesquite, just north of Fort Lowell Park.

The San Pedro Chapel was dedicated in 1932. It has been restored to its original configuration.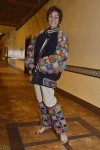 Last week I wrote about the pioneer Mormon community of Binghampton. Now I'll tell the story of another early Tucson community that succeeded because of plentiful water in the Rillito River - Old Fort Lowell.
Follow the Arizona Daily Star
Vote! Today's Poll
Loading…
What is the most important issue for you in the 2016 Presidential Election?
Sign up for Tucson.com e-mail newsletters