Boise State

Kenzie Fowler is pain-free and able to sleep at night now, her body feeling more normal after October back surgery.

When she returns as a fifth-year senior in 2014, Kenzie Fowler will be one of five pitchers. So the UA will likely be looking to use her at the plate.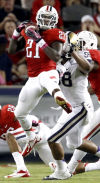 A Las Vegas Bowl featuring the Arizona Wildcats and No. 25 Boise State would be "a good, compelling matchup" and "good television," the game's executive director said Monday.
Follow the Arizona Daily Star