Brasserie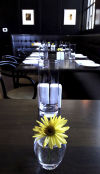 Will reopen Aug. 1 with expanded menu and minor reinvention.
Newcomer Agustin Brasserie also brings in new fall menu.

Two worth the trip, one you should skip, longtime critic says.
Follow the Arizona Daily Star
Vote! Today's Poll
Loading…
With the pool of presidential candidates narrowing, which front-runner do you support?
Sign up for Tucson.com e-mail newsletters