Breast Cancer Treatment
The Susan G. Komen Southern Arizona Affiliate recently announced this year's community grants recipients. The organization is awarding a total of $204,763 204,763 to eight local organizations in its six-county service area in Southern Arizona.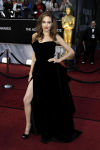 Oscar-winning actress Angelina Jolie announced on Tuesday that she had a preventive mastectomy after learning she had a gene that significantly raised her risk of breast cancer. In double mastectomies, surgeons typically remove as much breast tissue as possible. In Jolie's case, because she…
Women treated with radiation for breast cancer are more likely to develop heart problems later, even with the lower doses used today, troubling new research suggests. The risk comes from any amount of radiation, starts five years after treatment and lasts for decades, doctors found.
Follow the Arizona Daily Star
Vote! Today's Poll
Loading…
What is the most important issue for you in the 2016 Presidential Election?
Sign up for Tucson.com e-mail newsletters