Breast Surgery

Two people in Tucson have been arrested for performing breast augmentation and liposuction procedures without medical licenses — sending two women to hospitals after they became severely ill.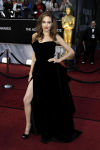 Oscar-winning actress Angelina Jolie announced on Tuesday that she had a preventive mastectomy after learning she had a gene that significantly raised her risk of breast cancer. In double mastectomies, surgeons typically remove as much breast tissue as possible. In Jolie's case, because she…

PHOENIX — A Phoenix woman who pretended to have cancer in order to raise money for breast implants has pleaded guilty to a theft charge.
Follow the Arizona Daily Star