Bret Michaels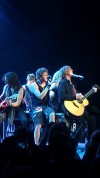 Thirteen years after their last Tucson show, they return to fans who quickly forgave them their absence.

Dr. Eric Reiman, right, executive director of the Banner Alzheimer's Institute, has been recognized as a 2010 Rock Star of Science, joining scientific leaders and rock stars in a celebration of biomedical research.

Scientists and rock stars usually don't have much to do with each other - unless you're Eric Reiman. The University of Arizona psychiatry professor is part of a six-page ad dedicated to "Rock Stars of Science" in this month's issue of GQ magazine.
Follow the Arizona Daily Star