Cab Driver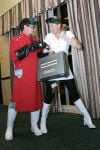 When James Corrick launched the first TusCon Science Fiction Convention with Carol DePriest in 1974, 2013 was a year straight out of an Arthur C. Clarke novel.

Tucson police have arrested a man suspected of robbing a cab driver at knife point last month.
Follow the Arizona Daily Star
Vote! Today's Poll
Loading…
With the pool of presidential candidates narrowing, which front-runner do you support?
Sign up for Tucson.com e-mail newsletters