Caid Industries
Two Tucson-based community banks are raising money to shore up their balance sheets as they continue to work out commercial-loan problems in the lingering aftermath of the recession.

Throwing flying discs into targets seems like all fun and games.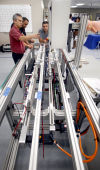 Tucson-based Caid Industries has long been a major maker of custom metal equipment and structures for markets ranging from manufacturing to mining to public art.
Follow the Arizona Daily Star