Cameron Maybin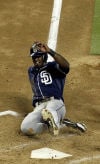 Cameron Maybin, frustrated by a left knee injury, says speed on the basepaths is "a big part of my game." He had 40 steals in 2011.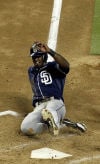 For San Diego center fielder Cameron Maybin, his season of disappointment continues to get worse.
Cameron Maybin doesn't care much for the Old Pueblo.
Follow the Arizona Daily Star