Canapes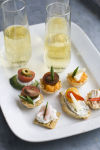 Take a building-block approach to Oscar party canapes: Select from a buffet of ingredients - bases, spreads, toppings and garnishes - to design snacks of your choice.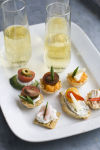 Canapes may sound stuffy, but they actually are the ultimate in ease when it comes to party food. Plus they look great and can be combined in endless ways to suit any taste.
Follow the Arizona Daily Star
Vote! Today's Poll
Loading…
With the pool of presidential candidates narrowing, which front-runner do you support?
Sign up for Tucson.com e-mail newsletters