Carnegie Hall

When Jonathan Batiste takes the Club Congress stage tonight, he will have the distinction of being the first musical artist in recent memory to perform at the downtown venue as part of a UApresents concert season.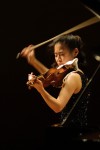 Renown violinist to play re-opening night.

Chinese pianist Lang Lang canceled his Tucson concert on Sunday so that he would not be trapped outside of New York City and miss his Carnegie Hall concert on Tuesday.
Follow the Arizona Daily Star