Casssandra Valadez

The words tumbled out of her mouth with rhythm. She knew every word. She savored them as if enjoying a rich, delicious cheesecake, her favorite dessert.

Sunnyside High senior Cassandra Valadez, left, shares a breathing exercise with one of her coaches, Hilary Gan of the University of Arizona Poetry Center. Valadez was in training recently for the national Poetry Out Loud competition.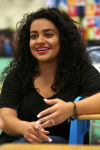 Sunnyside High School senior Cassandra Valadez
Follow the Arizona Daily Star
Vote! Today's Poll
Loading…
What is the most important issue for you in the 2016 Presidential Election?
Sign up for Tucson.com e-mail newsletters