Center For Arms Control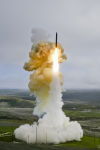 It will be some time before the Pentagon pinpoints the cause of a recent failed intercept test of the nation's system of ground-based missile interceptors, which features a kinetic warhead made by Tucson-based Raytheon Missile Systems.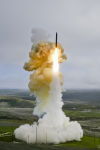 A ground-based ballistic missile interceptor was launched from Vandenberg Air Force Base, Calif. in a non-intercept flight test in January. A similar missile failed to intercept its target as planned in a July 5 test.
Follow the Arizona Daily Star
Vote! Today's Poll
Loading…
What is the most important issue for you in the 2016 Presidential Election?
Sign up for Tucson.com e-mail newsletters