Chanel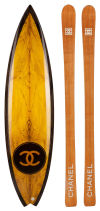 The rare limited edition Chanel burl wood surfboard sold for $11,250 recently at Heritage Auction. The Chanel rosewood, fiberglass, and aluminum skis brought $4,062.
Haley Ochoa jokes that fashion is in her DNA.
U.S. Immigration and Customs Enforcement agents arrested two gem show vendors for selling counterfeit jewelry and seized about $1 million of the fake goods Wednesday.
Follow the Arizona Daily Star
Vote! Today's Poll
Loading…
With the pool of presidential candidates narrowing, which front-runner do you support?
Sign up for Tucson.com e-mail newsletters