Cheyne Olney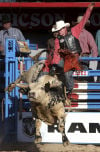 Cheyne Olney begins his ride on a bull named Breaking News, but Olney can't stay on for eight seconds and receives no score. Still, he says, "the adrenaline flow is pretty amazing."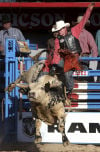 Cheyne Olney has a process.
Follow the Arizona Daily Star
Vote! Today's Poll
Loading…
What is the most important issue for you in the 2016 Presidential Election?
Sign up for Tucson.com e-mail newsletters