Childrens Museum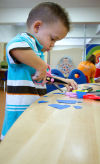 Oro Valley families have an educational entertainment option to look forward to, thanks to the town's partnership with Children's Museum Tucson.
Sometimes, mornings are playtime for Deborah Tenino, a mom-on-the-go and restaurant owner.
In honor of tomorrow's Meet Me Downtown 5k Night Run and Walk tonight, admission to the Children's Museum Tucson, 200 S. Sixth Ave., is free from 3 to 6 p.m.
Follow the Arizona Daily Star