Chocolate Bark

Make Valentine's Day bark with good-quality chocolate and contrasting flavors - something crunchy, something tangy, something salty. Top the chocolate with whatever your love loves.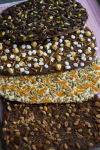 Four variations of Valentine's Day chocolate bark are shown. Create your own favorites by switching toppings and the types of chocolate.

Looking for an easy way to impress this Valentine's Day? Consider a simple - but still sensational - chocolate bark.
Follow the Arizona Daily Star
Sign up for Tucson.com e-mail newsletters