Coaches

Cienega girls coach Tim Nichols, left, and Salpointe boys coach Jim Flannery, right, are prep all-star golf coaches of the year, Nov. 23, 2003 in Tucson, Ariz.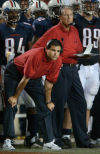 UA coach John Mackovic, right, and assistant coach Rob Ianello watch their team during a 2002 victory over Utah. A potential game-winning TD pass by the Utes in the final minute was ruled out-of-bounds by the officials.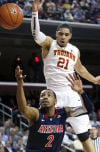 From his basketball home in Japan, Reggie Geary exchanged emails recently with Phoenix-based Russ Pennell, and Geary could probably still hear chuckling on the other end.
Follow the Arizona Daily Star