County Prosecutor
A prosecutor with the Pinal County Attorney's Office was suspended from practicing law for violating professional conduct standards stemming from a homicide case in Pima County.

I hope that other readers are as disturbed as I was at reading the recent article about the number of law-enforcement shootings in Tucson and Pima County ("Most officer-involved shootings last year deemed OK," March 9).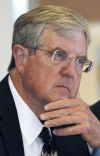 County Administrator Chuck Huckelberry has challenged Supervisor Ally Miller to give prosecutors evidence that county employees are breaking the law, as she says, or shut up.
Follow the Arizona Daily Star