Cruise
Q: We were recently scheduled to sail on a seven-day Carnival cruise to Mexico. A few minutes after we boarded in Long Beach, Calif., I had horrible kidney pains. I couldn't walk, and felt as if I was going to pass out.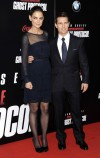 NEW YORK — Tom Cruise and Katie Homes are calling it quits after five years of marriage.
Follow the Arizona Daily Star
Vote! Today's Poll
Loading…
What is the most important issue for you in the 2016 Presidential Election?
Sign up for Tucson.com e-mail newsletters