Cynthia Pelayo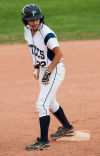 In 2012, Cynthia Pelayo was so deep on the Pima College softball bench that by the Aztecs' 12th game, she had one at-bat. It wasn't a team looking for help, either; PCC would go on to finish third in the nation.
Follow the Arizona Daily Star
Vote! Today's Poll
Loading…
With the pool of presidential candidates narrowing, which front-runner do you support?
Sign up for Tucson.com e-mail newsletters