Downburst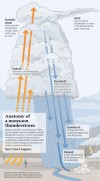 An almost two-mile wall of dust, known as haboob, descended upon the Phoenix metro area yesterday, reducing visibility and causing flight delays at Phoenix Sky Harbor International Airport.
Follow the Arizona Daily Star
Vote! Today's Poll
Loading…
What is the most important issue for you in the 2016 Presidential Election?
Sign up for Tucson.com e-mail newsletters