Electronic Books

The Pima County Public Library is doubling down on its bet on the popularity of e-books.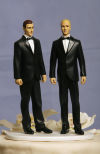 PHOENIX — Starting today, ferrets will be forbidden in restaurants as service animals.
PHOENIX - Gov. Jan Brewer signed a number of new laws Thursday, including one eliminating all current caps on political campaign contributions and scrapping the limit on how much any individual or PAC can donate to all candidates in any year.
Follow the Arizona Daily Star
Sign up for Tucson.com e-mail newsletters