Eli Young

Will third time be the lucky charm?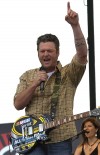 Will country music's superstar couple prevail or will new faces take the lead?

The show still has an hour to go, but the Associated Press is reporting the winners of the Academy of Country Music Awards, including Blake Shelton as male artist of the year and his wife Miranda Lambert winning her second straight female vocalist ACM.
Follow the Arizona Daily Star
Sign up for Tucson.com e-mail newsletters