Emma Vera

It's always nice to see a restaurant doing well, especially in a location that has seen its share of failures.
Calle Tepa, Mexican Street Grill takes its cue from food cart cuisine.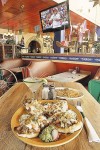 Calle Tepa set to open next Wednesday.
Follow the Arizona Daily Star
Vote! Today's Poll
Loading…
What is the most important issue for you in the 2016 Presidential Election?
Sign up for Tucson.com e-mail newsletters