Eric Esquivel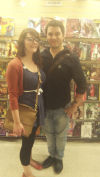 With a move to LA-based Boom! Studios, a comic-book publisher, Hannah Nance Partlow and Eric Esquivel are creating their own storyline. The Tucson duo are looking at the move as the next adventure-challenge.

Caption unavailable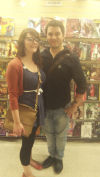 Fresh out of a screening of "Man of Steel," local comic book writer Eric Esquivel is feeling a bit betrayed by one of his oldest heroes. "It's just nuts that marketing dollars affect story." Esquivel shakes his head, shifting in his black T-shirt emblazoned with - what else? - the Superman e…
Follow the Arizona Daily Star
Vote! Today's Poll
Loading…
With the pool of presidential candidates narrowing, which front-runner do you support?
Sign up for Tucson.com e-mail newsletters