Eusebio Francisco Kino

The trips came to a halt over fears of insecurity in Sonora.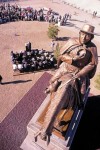 The Morgue Lady missed the anniversary of the laying of the foundation for the San Xavier Mission, but this article might interest readers even if it is a bit late.

Tucson was born Spanish and raised Mexican - but by the time it joined the Union in 1912, it was well on its way to being a thoroughly American and mostly Anglo town.
Follow the Arizona Daily Star
Vote! Today's Poll
Loading…
What is the most important issue for you in the 2016 Presidential Election?
Sign up for Tucson.com e-mail newsletters