Florida Vs. Arizona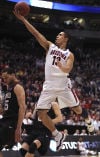 Anyone wondering how good Arizona really is this season may have to wait a while. The Wildcats are a consensus top-20 preseason team, but their nonconference basketball schedule could be among their weakest in decades, for reasons both in and out of UA's control.
Follow the Arizona Daily Star
Vote! Today's Poll
Loading…
What is the most important issue for you in the 2016 Presidential Election?
Sign up for Tucson.com e-mail newsletters