Fort Worth

Survey participants cited Tucson's culture, history and values as appealing.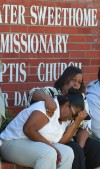 FOREST HILL, Texas — A North Texas pastor died after a man drove his car into the church and attacked the pastor with an electric guitar, authorities say.
FORT WORTH, Texas — A Sierra Vista man is set for trial today on capital murder charges in the death of a high school classmate in Texas nearly three decades ago.
Follow the Arizona Daily Star