Genetically Modified Food

You deserve to know everything about the food you feed your family.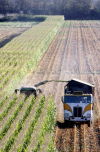 Petition drive falls fall short.
PHOENIX – With no funding and facing a July deadline to gather 173,000 signatures, a Tucson man is out to require labels telling consumers whether food products are genetically engineered or made with genetically engineered ingredients.
Follow the Arizona Daily Star