Getaway Driver
Macho Joe Williams, 36, was sentenced to 51 1/2 years in prison this week for his part in the robbery of a midtown dry cleaners.

Police are looking for a gunman who beat a woman outside a north-side shopping center and stole her purse.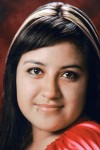 Two brothers were sentenced to natural life in prison plus an extra 189 years each in the murder of a Tucson girl following a violent, unrelated home invasion.
Follow the Arizona Daily Star
Vote! Today's Poll
Loading…
With the pool of presidential candidates narrowing, which front-runner do you support?
Sign up for Tucson.com e-mail newsletters