Gmo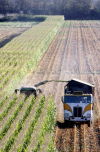 Petition drive falls fall short.

In cities across the globe, including Los Angeles, tens of thousands of protesters turned out Saturday for the March Against Monsanto, producer of genetically modified seeds.

PHOENIX - Saying people are entitled to know what they're eating, a Tucson activist has taken the first steps to force a public vote next year to require labeling of foods with genetically modified ingredients.
Follow the Arizona Daily Star
Vote! Today's Poll
Loading…
What is the most important issue for you in the 2016 Presidential Election?
Sign up for Tucson.com e-mail newsletters