Golden Bears
CULVER CITY, Calif. - As Sonny Dykes sat at a table on the Sony Studios lot on Friday, he picked at a plate of spaghetti, potato salad and a bread roll with a plastic fork. He was wearing a polo emblazoned with the Cal logo, representing the Golden Bears on Pac-12 media day.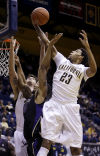 Cal junior Allen Crabbe, grabbing a rebound over Washington's Desmond Simmons, is more than the Pac-12's busiest player. The 6-foot-6-inch, 210-pound guard is averaging 19.3 points, 5.5 boards and 2.5 assists a game.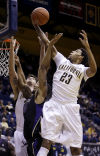 Allen Crabbe fell asleep on the team bus Friday from Tempe to Tucson.
Follow the Arizona Daily Star