Gop Race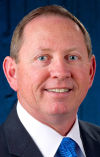 A local retired Air Force chief master sergeant who gained Internet fame for his fiery letter to Rep. Paul Ryan defending veterans now wants to be his colleague.
Ann Kirkpatrick has won the Democratic nomination in Congressional District 1 and will face Republican Jonathan Paton in the November general election.

Republican Jesse Kelly maintained a big lead in Tuesday night's special election, winning a four-way GOP race for a chance to represent southern Arizona's 8th Congressional District.
Follow the Arizona Daily Star