Gould
The Arizona Game and Fish Department will get about $10 million over a decade from Rosemont Copper for land, water rights and wildlife projects to compensate for impacts of the proposed Rosemont Mine, the department announced Tuesday.
The state Game and Fish Department is offering a $1,750 reward for information leading to arrests in the illegal killings of at least three Gould's turkeys in the Josephine Canyon area southeast of Green Valley.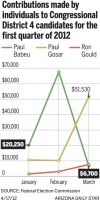 In the first quarter of the year, Pinal County Sheriff Paul Babeu raised more money than his opponents in the race for the Republican nomination for Congress in the 4th Congressional District.
Follow the Arizona Daily Star
Sign up for Tucson.com e-mail newsletters