Guadalajara Jalisco

He lent his talent and time to annual Tucson conference, recorded with Ronstadt.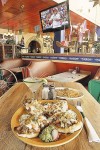 Calle Tepa set to open next Wednesday.

GUADALAJARA, Mexico — For American swimmer Marcus Titus, being deaf is more advantage than disability.
Follow the Arizona Daily Star
Vote! Today's Poll
Loading…
With the pool of presidential candidates narrowing, which front-runner do you support?
Sign up for Tucson.com e-mail newsletters