Homicide Survivors Inc
Homicide Survivors, Inc. will host a local candlelight vigil for Connecticut shooting victims tomorrow - Sunday, Dec. 16 -  evening.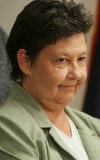 Funeral services for Homicide Survivors' founder Gail Leland will be held Saturday, Dec. 1 from 3 p.m. to 4 p.m. at the YWCA, 525 Bonita. Fellowship will follow.
Follow the Arizona Daily Star
Vote! Today's Poll
Loading…
With the pool of presidential candidates narrowing, which front-runner do you support?
Sign up for Tucson.com e-mail newsletters