Interfaith Community Food Services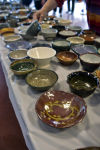 For $15 you can pick out a handmade ceramic bowl and get all kinds of tasty edibles. Your money will go to the Interfaith Community Services Food Bank.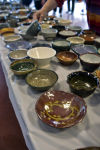 It's not often that for just $15 you can sample a nearly unlimited amount of soup and accompaniments from several notable Tucson restaurants, plus take home a handmade ceramic bowl.
Follow the Arizona Daily Star
Vote! Today's Poll
Loading…
With the pool of presidential candidates narrowing, which front-runner do you support?
Sign up for Tucson.com e-mail newsletters