Internet Fame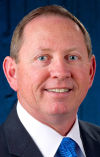 A local retired Air Force chief master sergeant who gained Internet fame for his fiery letter to Rep. Paul Ryan defending veterans now wants to be his colleague.
Follow the Arizona Daily Star
Vote! Today's Poll
Loading…
What is the most important issue for you in the 2016 Presidential Election?
Sign up for Tucson.com e-mail newsletters