Jack In The Box
A south side woman's defense against an assault charge should have been foolproof, but Pima County deputies didn't see it her way.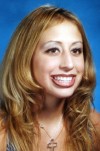 A mistrial was declared Tuesday in the first-degree murder trial of a man accused of killing a 16-year-old girl in November 2001.
PHOENIX — A man who fired two gunshots inside a Phoenix restaurant died of an unknown cause after workers and customers fled the business once the shooting started.
Follow the Arizona Daily Star
Vote! Today's Poll
Loading…
What is the most important issue for you in the 2016 Presidential Election?
Sign up for Tucson.com e-mail newsletters