Jim Michalczik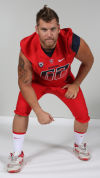 Ka'Deem Carey, facing possible punishment from his offseason run-ins, may miss part or all of Friday's opener against NAU.
Jim Michalczik has been intrigued by Rich Rodriguez's spread-option offense for years.

Jim Michalczik's Pac-12 Tour has stopped in Pullman, Wash.; Corvallis, Ore.; Berkeley, Calif.; and even Seattle for a a couple of months.
Follow the Arizona Daily Star