Jose Antonio Rodriguez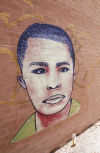 Brisenia Flores' face also is on the wall, having appeared without fanfare about a month ago. In 2009, Brisenia, who at the time was 9 years old, was shot to death during a home invasion led by a border vigilante in Arivaca.

The face of Jose Antonio Elena Rodríguez is one of two that appeared about a month ago on a west-side corner. Rodríguez died in a Border Patrol shooting in 2012.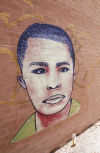 Their piercing eyes first grab your attention. Hers radiate innocence. His are filled with sorrow.
Follow the Arizona Daily Star