La Traviata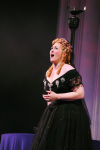 The sopranos in Arizona Opera's production this weekend of Verdi's "La Traviata" are both making their debuts in the role of Violetta.
Magic happens in opera when you are sitting in the audience and you forget where you are.

Wonderful cast brings tragic love story to life.
Follow the Arizona Daily Star
Vote! Today's Poll
Loading…
What is the most important issue for you in the 2016 Presidential Election?
Sign up for Tucson.com e-mail newsletters