Leikeim

Sahuaro's Arthur Gibson guards Chaz Mack of Foothills in a Dec. 7 game that the Falcons won 75-44. The rematch is next Friday.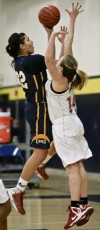 Flowing Wells guard Lyndsay Leikem shoots over Sahuaro's Chelsey Hunsaker. The Caballeros have won 11 straight.

The Catalina Foothills' boys basketball team has won seven straight games, including a rout of visiting Sahuaro early last month.
Follow the Arizona Daily Star