Lemon Tarts

With store-bought phyllo cups, these creamy lemon-berry tartlets served on a platter make for a colorful, tasty dessert after the main Easter meal.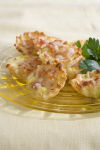 Mini-quiche appetizers, made with phyllo cups, are simple to prepare and can be filled with meats,cooked vegetables or cheeses.

Easter dinner isn't generally the sort of meal we try to rush. The whole point is to savor the experience, not sprint through it the way we do most weeknights.
Follow the Arizona Daily Star
Sign up for Tucson.com e-mail newsletters