Lgbt Rights In California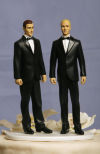 Ruling by 9th Circuit sets tone for states in the region. Appeal possible.
SAN FRANCISCO — Less than 24 hours after California started issuing marriage licenses to same sex couples, lawyers for the sponsors of the state's gay-marriage ban filed an emergency motion Saturday asking the U.S. Supreme Court to stop the weddings being performed in San Francisco.
WASHINGTON — In a major victory for gay rights, the Supreme Court on Wednesday struck down a provision of a federal law denying federal benefits to married gay couples and cleared the way for the resumption of same-sex marriage in California.
Follow the Arizona Daily Star
Sign up for Tucson.com e-mail newsletters