Lita Ford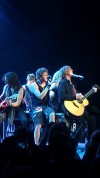 Thirteen years after their last Tucson show, they return to fans who quickly forgave them their absence.

Tickets go on sale at 10 a.m. today for the following Casino del Sol AVA shows. Click here to order.

Casino del Sol's AVA has added several shows to its season, including Latin rapper Pitbull on Aug. 5 and the pairing of Brit rockers Def Leppard and glam rockers Poison on Sept. 12.
Follow the Arizona Daily Star