Marketing Campaign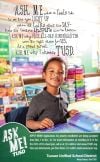 The Tucson Unified School District has rolled out its $300,000 marketing campaign with television spots, radio and print advertisements.

After a year of closing schools and cutting millions of dollars in education services, the Tucson Unified School District is considering spending $300,000 on a marketing campaign to polish its image and gain the public's trust.
Follow the Arizona Daily Star
Vote! Today's Poll
Loading…
What is the most important issue for you in the 2016 Presidential Election?
Sign up for Tucson.com e-mail newsletters