Mckale Center History

UA athletic department officials hope to re-energize the copper-topped McKale Center at the Arizona Board of Regents meeting this week.

Question No. 10 - True or false: The entire athletic department is housed at McKale Center?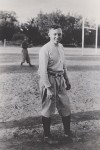 McKale Center's namesake was J.F. "Pop" McKale. Do you know what McKale's claim to fame was?
Follow the Arizona Daily Star
Sign up for Tucson.com e-mail newsletters