Meteorite Men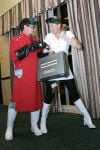 When James Corrick launched the first TusCon Science Fiction Convention with Carol DePriest in 1974, 2013 was a year straight out of an Arthur C. Clarke novel.

A trio of rock hunters donated samples of the meteor that blazed across Nevada and California last month to the UA Lunar and Planetary Lab.

This sample of the meteor that flashed across Western skies last month is thought to be less contaminated than earlier samples. It also seems to be a match for an asteroid targeted for a visit in 2019.
Follow the Arizona Daily Star
Sign up for Tucson.com e-mail newsletters